Envision A Brighter Path
Kingspan Light + Air is a single-source provider of BriteWay™ translucent canopies, offering flexible design options that include both pre-engineered and customized systems from the ground up.
While metal-roof canopies leave passers-by feeling confined and adjacent areas are cast in shadow, the BriteWay canopies utilize a translucent glazing cover, allowing light to pass through to create a comfortable and well-lit walkway.

Custom Canopies
KLA can supply everything from the ground up and the Architectural Support department will collaborate with you on the design of custom configurations to ensure optimal system performance.

Design versatility – a wide range of standard and custom finish colors and a broad selection of glazing colors.
Rust-free aluminum structure offers excellent durability and system longevity.
Components are shipped fully fabricated and ready to be assembled.
No on-site cutting, welding or painting is necessary, which reduces labor time and installation costs.
Lightweight structural and glazing materials for fast, easy installation.
Optional gutters and downspouts. Optional Kynar® finish is available with up to a 20-year warranty.
Standard Canopies

These standardized systems have been pre-engineered based on specific design criteria to ensure lasting performance.
The innovative clear span design eliminates the need for cross-bracing, which opens up the space below the canopy structure to create a more comfortable and pleasant environment for pedestrians.
Low Slope Canopies
The U-Lite low-slope canopy system is engineered for, but not limited to, canopies designed to have less than a 2:12 pitch.
The elegant, slim profile of the 4 mm thick monolithic standing-seam glazing panels gives the U-Lite system a sleek aesthetic, making it an economical alternative to glass.
The glazing material is inherently flexible and will not shatter upon high impact. The extreme durability of the U-Lite glazing panel helps to ensure the longevity of the system, curbing future costs.
Suspended Canopies
The LiteBrow system is an extremely durable, pre-engineered attached canopy system designed to withstand a combined load of up to +/- 120 psf.

While these modular canopy units come in three standard sizes, custom-engineered systems are also available. These canopies are shipped fully-assembled with all necessary connection components and hardware for fast and easy installation.
Standing Seam Glazing System with Pentaglas® glazing panel.
Standard LiteBrow Canopy Sizes
These suspended canopies are available in the following standard size units:
5ft x 4ft | 5ft x 8ft | 5ft x 12ft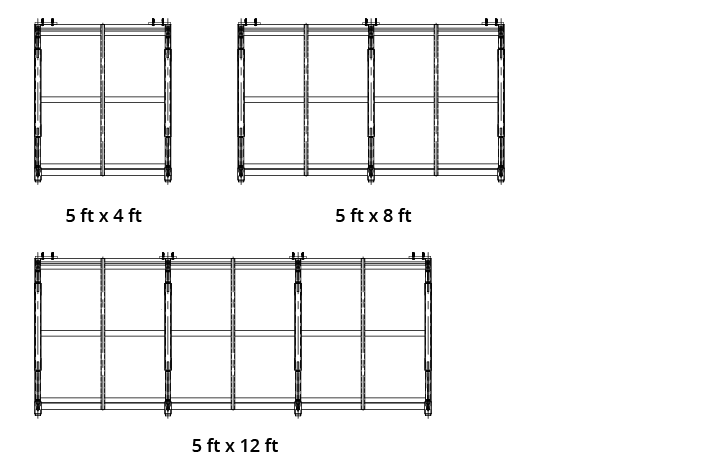 Specialty Applications
The canopy and walkway systems can be adapted to achieve various performance requirements, including:
Class-A and Class-B roof construction.
High velocity hurricane zone (HVHZ) resistance.